TINCTURES
A duo based out of Bangalore and Berlin, featuring Aman Mahajan on piano and Nishad Pandey on guitar, performing original repertoire with tinctures of jazz, Western and Indian classical music, and contemporary influences.
the MUSIC
Heads and Tales is Tinctures' first set of compositions, with each piece creating an environment in which various musical games are played, and concepts are explored. Musical interplay and narrative is given prominence, and often drawn from sources beyond the realms of music.
The concert program consists of compositions including World 1–1, See You In Berlin, Patterns, Uncharted, and Serpentine, as well as a few completely improvised pieces. The compositions provide fresh contexts for familiar sounds, and explore the nature of consonance and dissonance on the piano and guitar.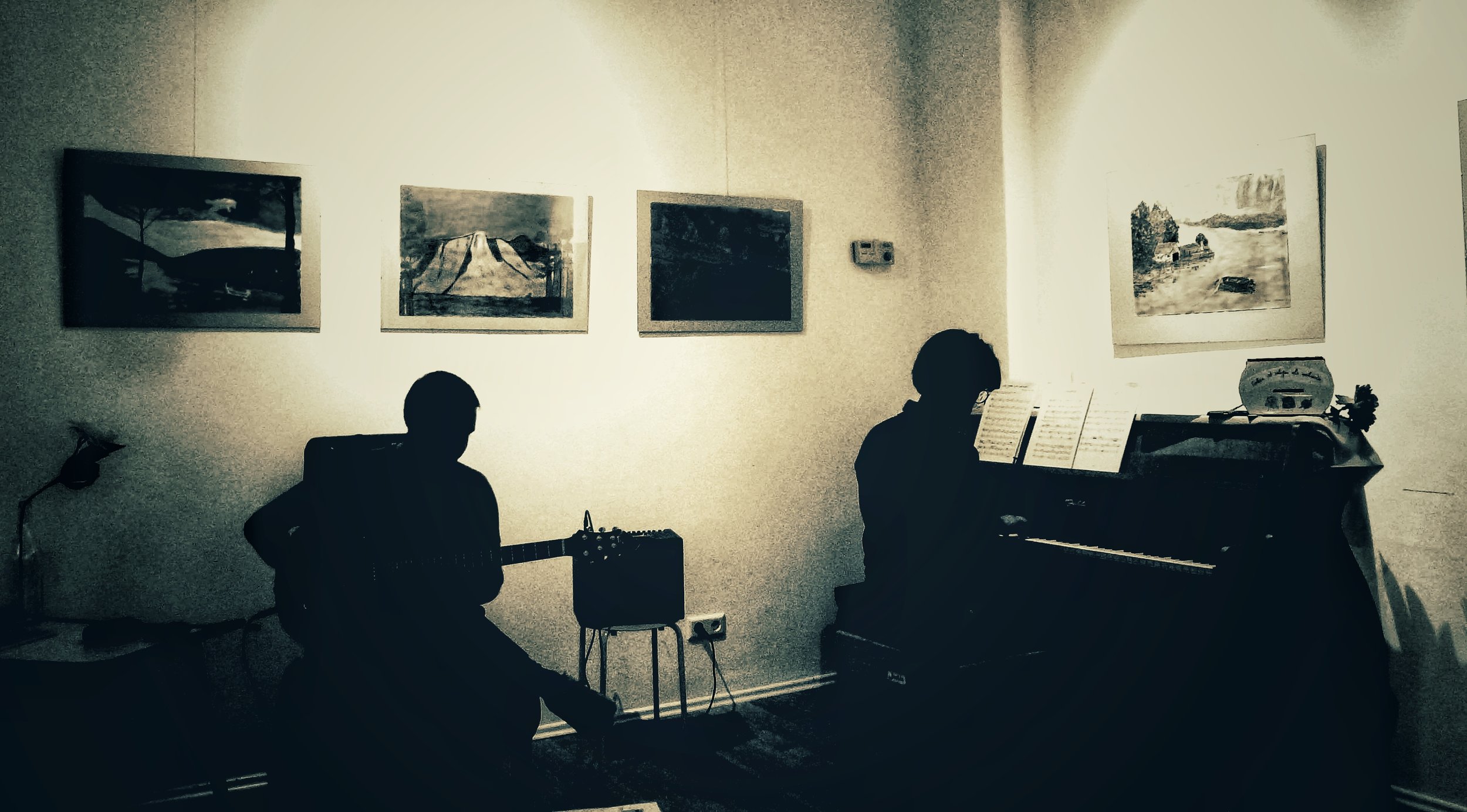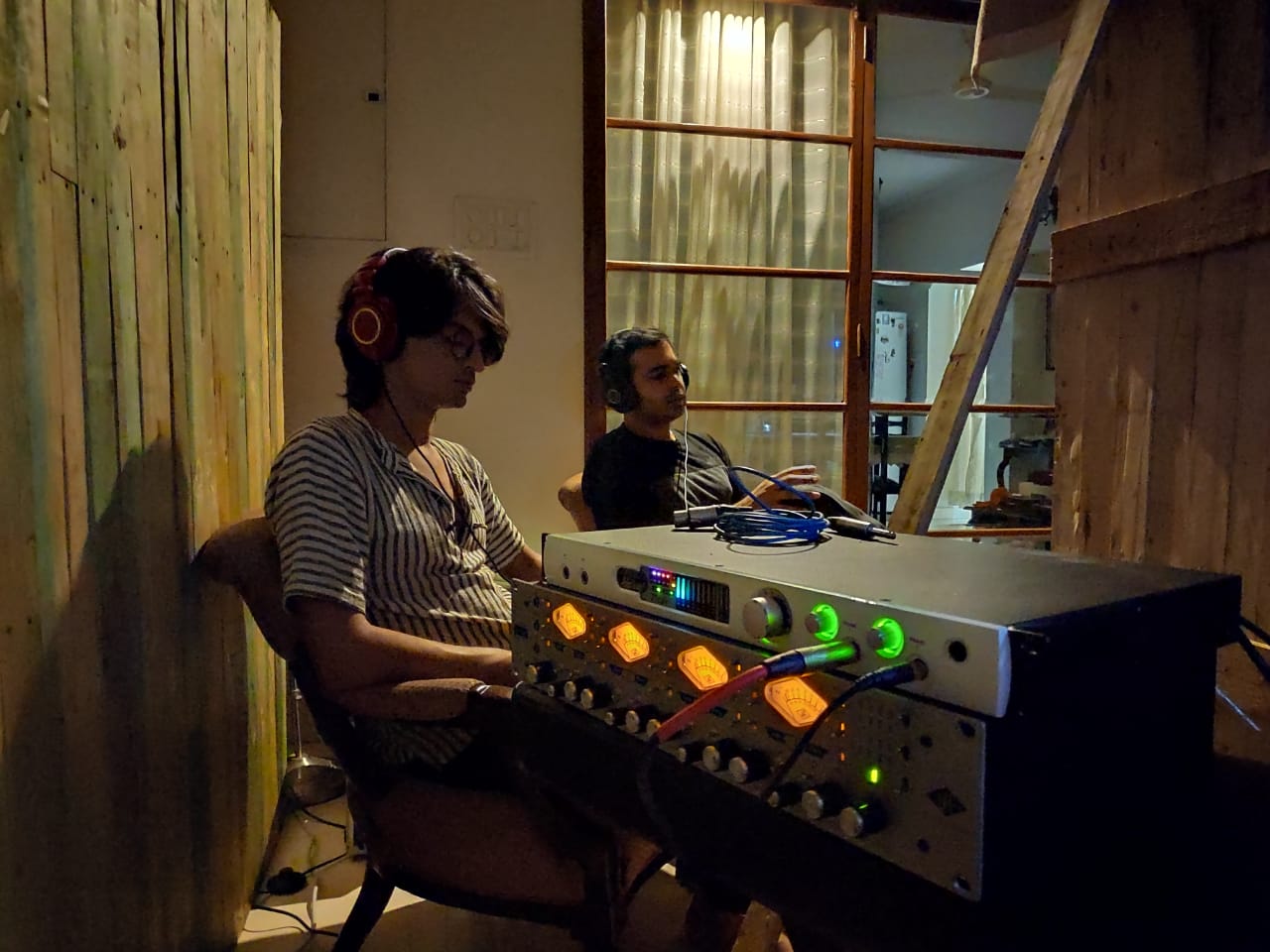 PERFORMANCES
PAST PERFORMANCES
27.01.2019 Timri, Indiranagar, Bangalore
26.01.2019 The Blue Room, Bangalore
25.01.2019 Theme Music Institute, Bangalore
24.01.2019 Madras Jazz Hub, Chennai
20.01.2019 house concert, Cooke Town, Bangalore
18.01.2019 Monk's Studio, HSR Layout, Bangalore
17.01.2019 Musee Musical, Hyderabad
22.04.2018 Kulturraum Mainzer7, Berlin
21.04.2018 Art City People, Berlin
20.04.2018 The Bear, Berlin
19.04.2018 DAMSO Galerie & Teehaus, Berlin
17.04.2018 Geyger Art Gallery, Berlin
15.03.2018 Di Ghent Café, Gurgaon
14.03.2018 Theme Piano World, New Delhi
11.03.2018 Depot48, New Delhi
10.03.2018 &Switch Session, Siri Fort, New Delhi
09.03.2018 Sienna Café, Calcutta
08.03.2018 Alliance Française du Bengale, Calcutta
06.03.2018 Goethe-Institut, Bangalore
04.03.2018 Tabula Rasa, Hyderabad
03.03.2018 Alliance Française, Hyderabad
02.03.2018 house concert, Banjara Hills, Hyderabad
29.01.2017 Plantation House, Bangalore
28.01.2017 The Blue Room, Bangalore
WORKSHOPS
The duo conducts workshops at music schools and other venues, to share their approach, and to discuss the musical devices they use to compose and improvise.


PAST WORKSHOPS
25.01.2019 Theme Music Institute, Bangalore
19.01.2019 Octavium Music Academy, Bangalore
13.03.2018 Global Music Institute, Greater Noida
12.03.2018 The Piano Man Jazz Club, New Delhi
10.03.2018 One World College of Music, Gurgaon
06.03.2018 Goethe-Institut, Bangalore
28.01.2017 The Blue Room, Bangalore


WORKSHOP TOPICS
• the duo's approach to writing for piano and guitar
• co-composing
• harnessing ears + theory, using them in tandem
• concept-based composition
• a breakdown of specific sections of the pieces
• rhythmic cycles, polyrhythms
• non-functional harmony
• tools for improvisation
PRESS

There was a little jazz, a little classical Indian music, a little classical Western music and a little I-don't-know-what. But there was nothing little about the magical experience...the kind of music that is genre-free and looks to see how easily two people can collaborate with each other, without the usual boundaries of chord structure or defined rhythm.
Radha Thomas | Executive Traveller | 02.02.2019
[A] camaraderie that found its way into their process of composition...full of musical tropes and games, with equal parts structure and improvisation.
Darshana Ramdev | Deccan Chronicle | 26.01.2019
Both the musicians conversed in a true dialogue. Both listened to the other. Both the musicians put in their own point of view, simply, clearly and seamlessly.
Pratap Anthony | Serenade Magazine | 07.03.2018
Exploring sounds as diverse as their backgrounds from Bengaluru to Berlin, Tinctures brings the guitar and piano together for some harmonic manipulations.
Allan Moses Rodricks | The Hindu | 06.03.2018
...Ben Allison once said, "Jazz is an evolutionary art form. It's always changing. I think it has to change otherwise it dies." The same can be said about the sound of Tinctures.
Debarun Borthakur | The Times of India | 04.03.2018